SIGNIFICANT MOMENTS OF IMPACT HAPPEN HERE
The Bay is a home for misfits in Lincoln, Neb — a safe place to go, people who care, and something to do. Our programs aim to help young people dream bigger.
The Bay is a home for misfits in Lincoln, Neb — a safe place to go, people who care, and something to do. A 501c3 nonprofit, The Bay was founded in 2010 by Mike Smith and on Dec. 31, 2017 became a program of Rabble Mill through a merger with Hear Nebraska. Its programs aim to help young people dream bigger.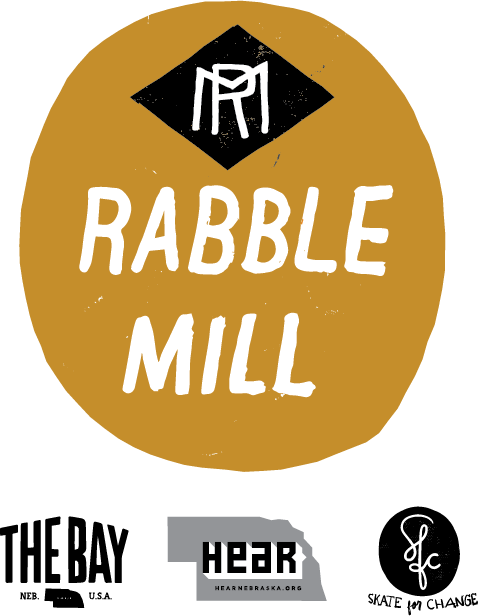 The Bay's professional staff applies innovation and constant evolution to best practices, building authentic relationships and programs dedicated to most-effectively engaging youth — particularly those marginalized due to income or other socioeconomic factors. Open till midnight on weekends and 10 p.m weekdays, The Bay offers a safe place when young people really need it.
In a 20,000-square-foot warehouse in Lincoln, Nebraska's Clinton Neighborhood (2005 Y St.), The Bay features:
the state's only public, indoor skatepark
digital art/media lab
all-ages performance venue
community meeting spaces, and an emergency pantry
Goldenrod Cafe
Mission
We provide economically and culturally disadvantaged youth with the belonging and purpose they need to grow and reinvest in their community.
Core Values
Dream Differently; Celebrate Each Other; Honor Relationships; Solutions Not Problems; People Over Policy; It's Supposed To Be Fun.
All-Access Passes
The BAY distributes 149 All-Access Passes throughout the Lincoln Public Schools, through social workers and counselors. These passes allow free entry to the skatepark, concerts, digital art space, a mentor through Heartland Big Brothers Big Sisters, and a meal from the Coffee Bar every night starting in 2018.
Meals Served
The BAY served 254 meals to All-Access Pass scholarship recipients.
Safe Space Hours
The Bay hosted 3,120 hours of safe space to the Lincoln community throughout the year.
Events Hosted
The Bay hosted 151 events in 2019 within one of its many spaces.
Event Attendees
The Bay welcomed 4,854 people to events in 2019, including music performances, poetry nights, art openings, skate contests, and more.
Volunteer Hours
The Bay provided 3,600 hours to volunteers and those in need of community service.
Served at Food Bank
The Bay helped to provide meals to 7,040 people by being a distribution site for the Food Bank three times each month.
Chair

:

Jordan Delmundo
He/Him
Vice Chair

:

Jasmine Kingsley
She/Her
Secretary

:

Christina Oldfather
Ser/Her
Treasurer

:

Jess Paisley
He/Him
Kristine Hull
She/Her
Stephanie Dinger
She/Her
Ashley Hustad
She/Her
Nic Swiercek
He/Him 
Jon Tvrdik
He/Him
Teliza Rodriquez
She/Her
Shaun Harner
She/Her
*Board meets via phone monthly and in-person quarterly, alternating between Lincoln and Omaha locations* 
*New board members are elected through a board and co-founders vote, after a thorough vetting process*
Stay In Touch
Join The Bay newsletter to stay up to date with the significant work being done at The Bay.